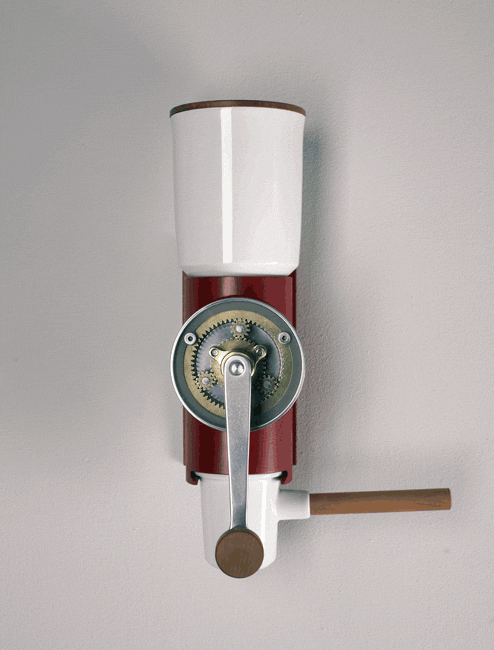 Kasper
Hand Operated Coffeemill
The hand operated coffeemill Kasper works with a visible planetary gear. This gear makes grinding coffee stunningly smooth and easy. The wall mounting feature saves workspace and reduces the strength needed. All porcelain parts are light-tight and tasteless, making them ideal for storing coffee beans and powder. The tank is built to hold 250 grams of coffee beans and the collecting vessel´s volume is made for four cups of coffee. Kasper will be available in two different versions. One version is a ready-to-use product, which can be easily mounted on the wall and quickly starts grinding. Alternatively, for those eager to get deep insights in the mechanics behind their morning coffee, Kasper comes in a do-it-yourself construction kit.

—

Die handbetriebene Wandmühle Kasper arbeitet mit einem sichtbaren Planetengetriebe. Dieses Getriebe sorgt für einen leichten und runden Mahlvorgang. Die Wandmontage ist platzsparend und verringert den Kraftaufwand zusätzlich. Alle Porzellanbauteile sind lichtundurchlässig und geschmacksneutral, was sie Ideal zur Aufbewahrung von Kaffeebohnen und Pulver macht. Der Bohnentank fasst 250g Kaffee, das Volumen des Auffangbehältnisses reicht für die die Zubereitung von vier Tassen Kaffee. Kasper soll in zwei Versionen angeboten werden: Als fertig montierte Kaffeemühle, die vor dem Einsatz nur noch an der Wand angebracht werden muss, oder als do-it-yourself Bausatz, so können die Funktionsprinzipien und mechanischen Abläufe der Mühle spielerisch erlernt und nachvollzogen werden.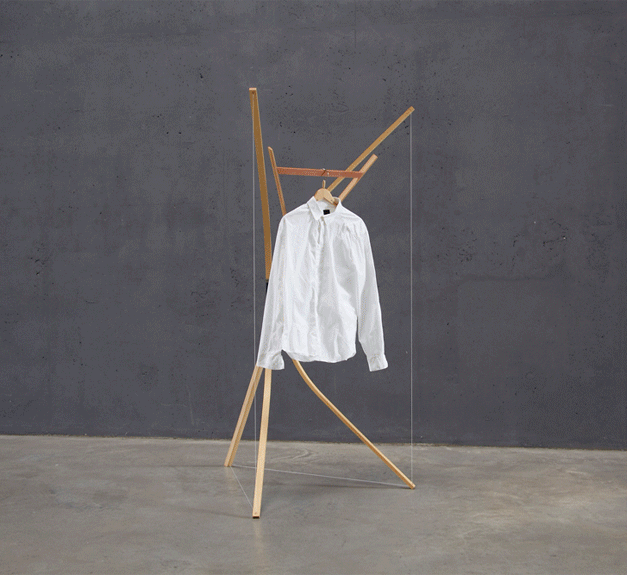 Y
Wardrobe
All wooden components are made of layered and watered Ashwood making them very elastic. With the help of traction elements the wardrobe achieves its high stability and unique look. Clamp-connections are used for easy installation and dismounting without the need for tools. The minimal material usage leads to an extremely low total weight of only 3.27 kg.

—

Die Bauteile aus schichtverleimten und gewässertem Eschenholz sind sehr elastisch. Durch Zug-Verbindungen werden Spannkräfte erzeugt, welche dem Produkt seine hohe Stabilität und sein außergewöhnliches Aussehen verleihen. Klemmelemente sorgen für einen einfachen und werkzeugfreien Auf- und Abbau. Der minimale Materialeinsatz der Garderobe führt zu einem extrem geringen Gesamtgewicht von lediglich 3,27 kg.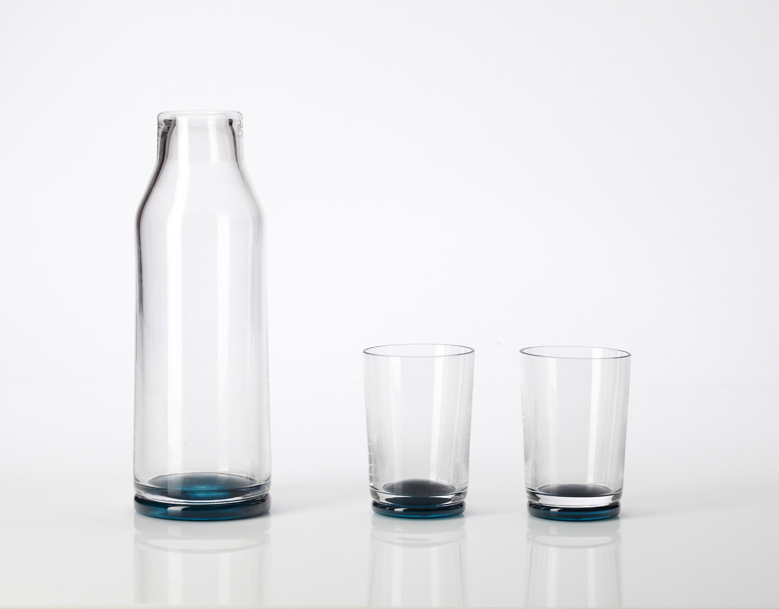 Q3
Carafe and Glasses
Axially symmetric glass jars designed in a clear and reduced shape. The used color triggers association with fresh water and gives the jars a cool look. The colored details are identical on the carafe and the glasses, making them recognizable as a set. The volume of the carafe is 0.5 liter which equals four of the glasses. In cooperation with CIAV Meisenthal/France. 2012.

—

Rotationssymmetrische Gefäße in schlichter und reduzierter Formsprache. Die Wahl der Farbe weckt Assoziation zu tiefem klaren Wasser und lässt die Gefäße kühl wirken. Das farbige Detail findet sich in Glas und Karaffe wieder, so sind die Objekte unmittelbar als Set zu erkennen. Das Volumen der Karaffe beträgt 0,5 Liter und entspricht der Füllmenge von vier Gläsern. Entstanden in Kooperation mit CIAV Meisenthal/Frankreich. 2012.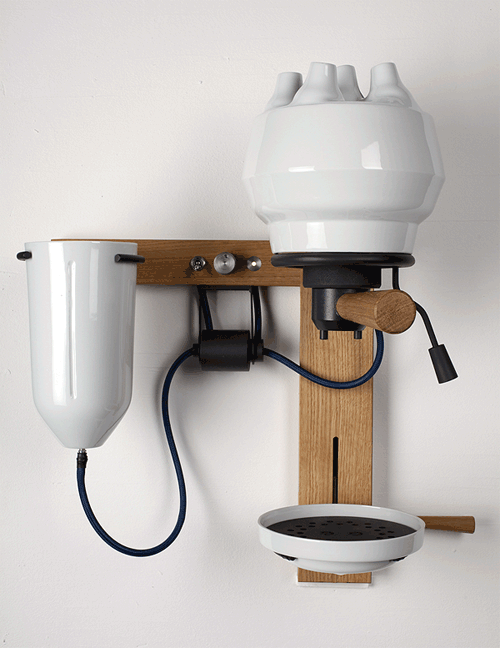 Seppl
Espresso Machine in Porcelain
The qualities of porcelain like high thermal storage, neutrality in taste and an antiseptic surface are making the material ideal for the use in food context. The machine is attached on the wall. This helps keeping work space free and relieves the operability.The single components are seperatly affixed and completely visible. This makes the process of coffee preparation comprehensible for the user.

—

Geschmacksneutralität, einfache Reinigung und hohe Wärmespeicherung sind Qualitäten von Porzellan, die für den Umgang mit Speisen und Getränken ideal sind. Die Maschine wird an der Wand angebracht, das spart Platz auf der Arbeitsfläche und vereinfacht die Bedienbarkeit. Die einzelnen Komponenten sind separat angebracht und komplett sichtbar. So wird der Prozess der Kaffeezubereitung für den Nutzer nachvollziehbar gestaltet.





EXHIBITIONS

09/2012
Bauhaus Archiv Museum für Gestaltung
Berlin, Germany

07/2012
Kaffeemuseum
Berlin, Germany

06/2012
DMY
Berlin, Germany

02/2012
Ambiente-Trade fair
Frankfurt a.M., Germany

8/2011 — 1/2012
permanent exhibit at KAHLA-Werke Porzellan
Kahla

2/2011
Designpreis Neunkirchen
Neunkirchen


PUBLICATIONS
2013

A Delicious Life, Gestalten Verlag, Berlin

GQ Russia, Moskau, Russland, 04/2013

2012

form No. 244, Frankfurt a.M., Germany, 11/2012

Disajn 04/2012, Stockholm, Sweden, 08/2012

Life&Style No. 92,Mexico, 07/2012

Protein journal No. 07, London, UK, 07/2012

Süddeutsche Zeitung Magazin No. 22, München, Germany, 06/2012

DMY catalogue, Berlin, Germany, 2012

Mercedes-Benz Magazin No. 02/2012, Stuttgart, Germany 04/2012

Fugas No. 617, Porto, Portugal, 03/2012


2011

Designpreis Neunkirchen catalogue Neunkirchen, Germany, 2011

crEATING culture Magazine, Weimar

PORT Magazine, Weimar


2010

UNISpiegel 5/2010

TLZ 5/2010

February Designpreis Neunkirchen catalogue


ONLINE MEDIA
Spiegel.de

prote.in

delood.com

detail.de

thisispaper.com

notcot.org